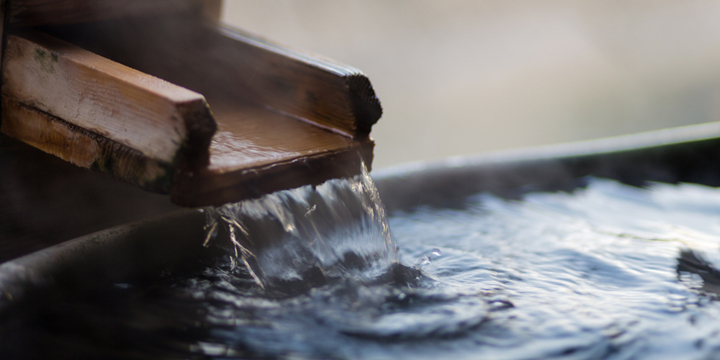 Solving the Mystery of Hot Spring Color
Hot Springs Science Project: What are hot springs? Bathclin explains.
Hot Springs
Have you ever wondered why some hot springs are clear while others are red, milky white, green or even brown or black? Perhaps you have noticed that the water's color seems to change depending on the time of day or the weather. What is causing these hot spring hues? It's all due to the varying level of components in the hot spring water. If you understand the relationship between the components and color, you'll have a good chance of guessing what is in hot spring water based on how it looks. Let's explore the most common hot spring colors and the reasons for them.
Milky White
If you come across a hot spring that looks like spilt milk, there's a good chance it's a sulfur hot spring. Clear and colorless before it gushes up from the ground, sulfur hot spring water changes color after exposure to oxygen. This is due to the oxidation of hydrogen sulfide in the water, which transforms into insoluble colloidal particles. The colloidal particles make the water appear milky white.

Dark Reddish-Brown and Red
They may look muddy, but red and dark reddish-brown hot springs get their color from their iron content, not from dirt. As in the case of sulfur hot springs, iron hot springs are clear and colorless before oxidation. When the iron in the water is exposed to oxygen, it transforms into insoluble colloidal particles, which in this case are brown.


Black
Black hot springs originate in the humic stratum, which is made up of decomposed ancient organic matter. The decomposed matter, called humus, contains humic acid, whose colloidal particles alter the water's color. The quantity and size of the particles determine whether the water will be the color and transparency of oolong tea, or a dark, opaque black.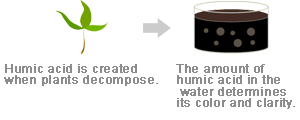 Green
It's not fully understood what causes some hot spring water to be green, but one possible reason is the high sulfur content of many green hot springs.


Blue
Blue hot springs are also a bit of a mystery. However, silicic acid and sulfur are thought to be responsible. Milky blue water can sometimes be seen when the water is turning milky white.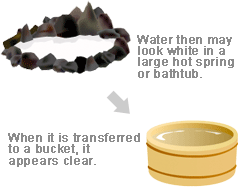 As you can see, it's the various components of, and sediments in, hot spring water that affect its color and clarity. But there's one more factor that helps determine a hot spring's color: light. When light, whether from the sun or another source, hits the minuscule particles in the water, the human eye perceives the color differently. As light diffuses, it can cause water to appear milky white, light blue, or another color.
This phenomenon is easily observed in large open-air hot springs that have white water. Though the water appears white as a result of the diffusion of light, when poured into a bucket where diffusion does not take place, the whiteness disappears, and the water's true color is revealed. In the same way, differences in sunlight — be they caused by time of day, season or weather — influence hot spring color. It is clear therefore that a hot spring's color is decided by a number of natural variables.
Color Research for an Authentic Experience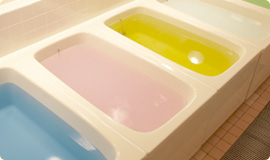 It would be easy to assume that the majority of hot spring waters were colorful. An extended tour of Japan's hot springs reveals, however, that the majority are clear and colorless. Therefore, a faithful reproduction of hot springs should include mostly clear and colorless bath salts but, for many people, colorless bath salts come up short.

After much research, Bathclin was able to reproduce the cloudy appearance of hot spring water seen in places such as Karurusu Hot Springs in Noboribetsu, Hokkaido Prefecture, and Yamashiro Hot Springs in Kaga, Ishikawa Prefecture. It is a feat considered extremely difficult in the industry. It was clear from the reaction of customers, however, that they had high hopes for color, too.

With that in mind, Bathclin made the color of its bath salts a top priority, and took on an immense challenge: replicating the experience of tenchi kouka with its bath salts. Tenchi kouka is the practice of separating oneself from the everyday grind to refresh one's emotional state by soaking in hot springs. An important part of the practice is traveling to the seaside, mountains, or another place away from the stresses of everyday life. The change of environment is believed to stimulate the five senses while refreshing the nervous system.

But how can this be achieved with bath salts? Being at home is obviously a huge barrier, but one which Bathclin was determined to surmount. In an attempt to get as close to the experience as possible, Bathclin replicate favorite hot springs by focusing on color and aroma.

Bathclin's researchers visit hot spring areas and study not only the quality of the hot spring, but also every factor that makes a hot spring experience unique — the landscape and climate, local specialties, the way the wind blows and so on — until they are familiar with the area as well as the data. Once the entire image is created, a color is chosen and the vision is complete. Researchers then test new bath salts in a bath tub in their laboratory, checking to see how colors fare under various lighting, including incandescent and fluorescent lamps.